FreeBSD News Flash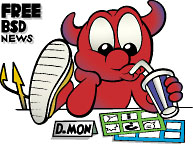 FreeBSD is a rapidly developing operating system. Keeping up on the latest developments can be a chore! To keep on top of things, check this page periodically. News is also announced on the freebsd-announce mailing list and the RSS feed.
The following projects have their own news pages, which should be checked for project specific updates.
For a detailed description of past, present, and future releases, see the Release Information page.
FreeBSD security information and a list of available Security Advisories are available on the Security Information page.
Enero 2023
Diciembre 2022
Noviembre 2022
Octubre 2022
Agosto 2022
Junio 2022
Mayo 2022
Abril 2022
Marzo 2022
Febrero 2022
Diciembre 2021
Noviembre 2021
Octubre 2021
Agosto 2021
Julio 2021
Mayo 2021
Abril 2021
Marzo 2021
Febrero 2021
Enero 2021
Diciembre 2020
Octubre 2020
Septiembre 2020
Agosto 2020
Julio 2020
Junio 2020
Mayo 2020
Abril 2020
Marzo 2020
Febrero 2020
Enero 2020
Noviembre 2019
Octubre 2019
Septiembre 2019
Agosto 2019
Julio 2019
Junio 2019
Mayo 2019
Abril 2019
Marzo 2019
Febrero 2019
Enero 2019
Diciembre 2018
Noviembre 2018
Octubre 2018
Septiembre 2018
Agosto 2018
Julio 2018
Junio 2018
Mayo 2018
Abril 2018
Marzo 2018
Febrero 2018
Enero 2018
Diciembre 2017
Noviembre 2017
Octubre 2017
Septiembre 2017
Agosto 2017
Julio 2017
Junio 2017
Mayo 2017
Abril 2017
Marzo 2017
Febrero 2017
Enero 2017
Diciembre 2016
Noviembre 2016
Octubre 2016
Septiembre 2016
Agosto 2016
Julio 2016
Junio 2016
Mayo 2016
Abril 2016
Marzo 2016
Febrero 2016
Enero 2016
Diciembre 2015
Noviembre 2015
Octubre 2015
Septiembre 2015
Agosto 2015
Julio 2015
Junio 2015
Mayo 2015
Abril 2015
Marzo 2015
Febrero 2015
Enero 2015
Diciembre 2014
Noviembre 2014
Octubre 2014
Septiembre 2014
Agosto 2014
Julio 2014
Junio 2014
Mayo 2014
Abril 2014
Marzo 2014
Febrero 2014
Enero 2014
Diciembre 2013
Noviembre 2013
Octubre 2013
Septiembre 2013
Agosto 2013
Julio 2013
Junio 2013
Mayo 2013
Abril 2013
Marzo 2013
Febrero 2013
Enero 2013
Diciembre 2012
Noviembre 2012
Octubre 2012
Septiembre 2012
Agosto 2012
Julio 2012
Junio 2012
Mayo 2012
Abril 2012
Marzo 2012
Febrero 2012
Enero 2012
Diciembre 2011
Noviembre 2011
Octubre 2011
Septiembre 2011
Agosto 2011
Julio 2011
Junio 2011
Mayo 2011
Abril 2011
Marzo 2011
Febrero 2011
Enero 2011
Diciembre 2010
Noviembre 2010
Octubre 2010
Septiembre 2010
Agosto 2010
Julio 2010
Junio 2010
Mayo 2010
Abril 2010
Marzo 2010
Febrero 2010
Enero 2010
---